Morning all and welcome to the second ever #sundaykitchendisco! This week I've been a bit slack so I'm only actually writing this *on* sunday whilst I recover from losing an hour of sleep thanks to that whole clocks going forward thing *plus* a child who thinks it's fun to wake up in the middle of the night for a couple of hours.
So if you're wondering WTF#sundaykitchendisco, the short story is, it's a music themed linky I run every sunday. If you've enjoyed anything music related with your kids - be it dancing in the kitchen, going to a festival, singing along in the car, going to a class or group or just *anything* music related, then add your post(s) here.
They don't have to be recently written *and* you can add more than one. For more information see here. Also here's last week's linky if you want to check it out. If you join up, don't forget to tweet me the link and add the #sundaykitchendisco badge to your post!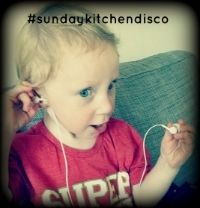 So this week we have mostly been listening to....

The bloody Abadas theme tune. Yes, I don't know why either, but I've had multiple requests for it. Well, also Up-Down (!) Funk too as usual but yes, this is what we've had on a loop in this house
This week we also went to our last ballet class of the term. Toddler45 has been going to ballet since last September and he loves it. Well, mostly he loves his ballet teacher but he really enjoys singing and dancing. The class for his age group (18mo-3yo) is mostly just music and movement but he's progressed really well and can do the whole class with minimal help from me. He only has one more term before he moves up to the big class where mummies don't go in and he has to follow the teacher without help from me. I'm really interested to know how he gets on with this.
It's surprising how few boys do ballet. Admittedly there are *a lot* of little girls in pink tutus but ballet is widely recognised as being excellent training for the body in terms of core strength, posture and co-ordination. Whatever sport or exercise Toddler45 wants to go on to do, these classes are a really good beginning for him. For those who have expressed surprise that a BOY does ballet, then I just assume they've not seen Billy Elliot and have never actually watch a ballet in their lives!
So thats it for #sundaykitchendisco this week but feel free to add a link below and let us know what you've been up to!