Hi everyone and welcome to the very first #sundaykitchendisco linky!
Typically, starting with a bang, this week is more of a #sundaykitchenplaylist - because I do love a good list, especially a music related one! I thought I'd pull together a list of Toddler45's favourite songs to boogie, sing and cuddle to.
For regular readers, in case you're wondering what's going on, a linky is an opportunity to share a post you've written with lots of other people on my blog. The theme is *music*. You can read all about the linky here but the basic idea is:
Add your post to the linky on the theme of *music*. So what your kids love to dance to, classes they attend, musical toys they love - anything.

Tweet me your post link + include #sundaykitchendisco so I can RT!

Comment on other posts in the linky + make new friends :)

Your post can be old or new, doesn't matter so feel free to dig out one from the archives!

The linky runs for a week from each Sunday
Fnally, don't forget to add the supercool #sundaykitchendisco badge to your post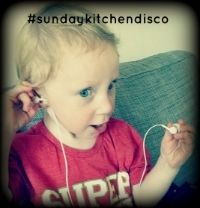 Anyway, here's our list SundayFundayKitchenDisco playlist :)
Uptown Funk - Mark Ronson ft Bruno Mars
Not yet the most overplayed song of 2015, Toddler45 loves this one and cutely refers to it as UpDown Funk. He does a pretty decent imitation of the dance too and had a little go at breakdancing also!
All About That Bass - Meghan Trainor
Not sure if its the foxy ladies in this video that have Toddler45 mesmerized or the catchy tune. Either way I have been forced to watch this around 67,000 times in the last month alone "Bass Mummy? No tweble!"
Danger Zone - Kenny Loggins
If liking cheesy music is in your genes, then Toddler45 gets this one from me. As a *bump* he used to go crazy to this one. And he still loves it :) "I feel the need, the need for speed!"
Get Lucky - Daft Punk
The first song Toddler45 clapped to. I was a bit over-excited by this - I mean Daft Punk, how cool is my child (nowhere near as cool as his mother obviously...)
Happy - Pharrell Williams
I've yet to find a toddler who does not like running around my sitting room when this song is on. So up there on our regular playlist. And that's without the Despicable Me connections :)
Fifi + The Flowertots Theme Tune
I've deliberately not posted a video clip of this song. It will be an endless earworm for you. Toddler45 loves it and I have regular requests for "FEEFEE" - despite him never actually watching the damn show!
Hear You Me - Jimmy Eat World
I love this song and used to play it to my bump very regularly. As a newborn, it always calmed Toddler45 down. And even last week, he fell asleep on me listening to this song. So it's a bit special. Might make you cry though.
Here Comes the Sun - The Beatles
Again, a bump song, one that calmed my son down as a newborn and even now. It's such a lovely, cheery positive song. The lyrics are oddly reassuring!
A Thousand Years - Christina Perri
This song came out around the time Toddler45 was born and sappy though it is, the lyrics summed up a lot of how I felt about him, loving him for a thousand years etc. I remember spending many evenings, in my dimly lit bedroom, with this on the radio, watching him sleep or feeding him and feeling so blessed.
I hope you liked the list and it's inspired you to add your own post to the linky. Anything music related - an archive post or a new post is fine. Hope you'll join in - just click the link below to join and add your post.